The 37th Annual Western Australian Science Fiction and Fantasy Convention
UPDATE: All of the tickets have now been given away. Thanks everyone who entered.
Hey everyone! Swancon has been given 10 I season double passes to the new Guillermo del Toro film Don't Be Afraid Of The Dark, which was released nationally on 3rd November! To win, simply email Convenor-2012 (at) Swancon(dot)com(dot)au with a postal address that I can send tickets to.
About The Film:
From the fantastic mind of Guillermo Del Toro (Pan's Labyrinth) comes Don't Be Afraid of the Dark, a creepy, spine-tingling story, set modern day but playing up fears from gothic childhood fairytales – that demons, evil fairies, gnomes and ghouls lurk just outside our range of vision, and we'd better watch out.
Sally Hurst (Bailee Madison), a lonely, withdrawn child moves in with her father (Guy Pearce) and his new girlfriend (Katie Holmes) as they restore the Gothic estate, the sprawling Blackwood Manor. Sally discovers a hidden basement, undisturbed since the strange disappearance of the mansion's owner a century ago. Voices draw Sally in and she unwittingly opens a gateway into a hellish underworld from which an army of ancient, dark-dwelling creatures emerge – small in size but endless in number.
As they conspire to drag her down into the macabre mansion's bottomless depths, Sally tries to warn everyone it's not make-believe – before the evil lurking in the dark consumes them all.
Thank you Hopscotch for these passes!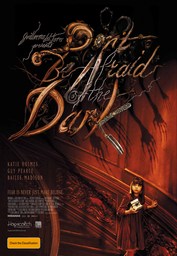 Events
News
Published: 14:46 on Nov 06, 2011 (GMT)
Last Updated: 18:40 on Feb 07, 2012 (GMT)